Please visit
WatchSoMuch.com
for our official address, Most functionalities will not work on unofficial addresses.
Grand Hotel 1932 720p BluRay H264 AAC-RARBG [MP4]
Basic Info
Size:
1.4 GB (1,463,335,431 bytes)
Source:
Bluray Rip (Best quality A/V)
Quality:
Video: NA/10 Audio: NA/10 (1 Votes)
Torrent details
Hash:
35032732B598105BD0C98E6242E90656A808696F
Upload Date:
2/9/2019 11:19:27 AM (1 week, 4 days ago)
Grand Hotel (1932)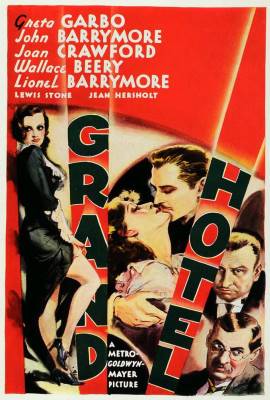 Director:
Edmund Goulding
Cast:
Greta Garbo

,

John Barrymore

,

Joan Crawford

,

Wallace Beery

,

Lionel Barrymore

,

Lewis Stone

,

Jean Hersholt

,

Robert McWade

,

Purnell Pratt

,

Ferdinand Gottschalk

,

Rafaela Ottiano

,

Morgan Wallace

,

Tully Marshall

,

Frank Conroy

,

Murray Kinnell
Synopsis
Berlin's plushest, most expensive hotel is the setting where in the words of Dr. Otternschlag "People come, people go. Nothing ever happens.". The doctor is usually drunk so he missed the fact that Baron von Geigern is broke and trying to steal eccentric dancer Grusinskaya's pearls. He ends up stealing her heart instead. Powerful German businessman Preysing brow beats Kringelein, one of his company's lowly bookkeepers but it is the terminally ill Kringelein who holds all the cards in the end. Meanwhile, the Baron also steals the heart of Preysing's mistress, Flaemmchen, but she doesn't end up with either one of them in the end...