Please visit
WatchSoMuch.com
for our official address, Most functionalities will not work on unofficial addresses.
A Private War 2018 1080p BluRay H264 AAC-RARBG [MP4]
Basic Info
Size:
2.1 GB (2,271,625,309 bytes)
Source:
Bluray Rip (Best quality A/V)
Quality:
Video: NA/10 Audio: NA/10 (1 Votes)
Resolution:
FullHD (1080p)
Torrent details
Hash:
F2418BA680855FCF7987792B95C6CB63385CDFAF
Upload Date:
1/25/2019 8:32:43 AM (3 weeks, 5 days ago)
A Private War (2018)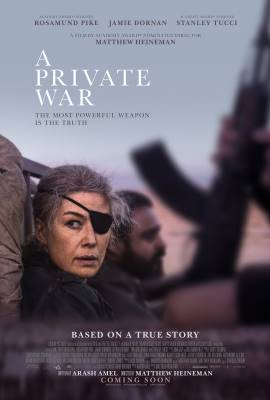 Biography, Drama, War
UK, USA (English)
110 min
Bluray

- /10

- /10

0

Updated on 2019 Feb 05

Nominated for 2 Golden Globes. Another 2 wins & 5 nominations.

7,047 Downloads
Buy VPN for only $2/Month
(30-day money-back guarantee)
Director:
Matthew Heineman
Cast:
Rosamund Pike

,

Greg Wise

,

Alexandra Moen

,

Tom Hollander

,

Stanley Tucci

,

Faye Marsay

,

Jesuthasan Antonythasan

,

Raman Srinivasan

,

Natasha Jayetileke

,

Nikki Amuka-Bird

,

Amanda Drew

,

Hilton McRae

,

Michèle Belgrand

,

Fady Elsayed

,

Raad Rawi

,

Tristan Tait

,

Corey Johnson

,

Jamie Dornan

,

Jérémie Laheurte
Synopsis
In a world where journalism is under attack, Marie Colvin (Rosamund Pike) is one of the most celebrated war correspondents of our time. Colvin is an utterly fearless and rebellious spirit, driven to the frontlines of conflicts across the globe to give voice to the voiceless, while constantly testing the limits between bravery and bravado. After being hit by a grenade in Sri Lanka, she wears a distinctive eye patch and is still as comfortable sipping martinis with London's elite as she is confronting dictators. Colvin sacrifices loving relationships, and over time, her personal life starts to unravel as the trauma she's witnessed takes its toll. Yet, her mission to show the true cost of war leads her -- along with renowned war photographer Paul Conroy (Jamie Dornan) -- to embark on the most dangerous assignment of their lives in the besieged Syrian city of Homs.