Please visit
WatchSoMuch.com
for our official address, Most functionalities will not work on unofficial addresses.
March of the Wooden Soldiers 1934 720p BluRay H264 AAC-RARBG [MP4]
Basic Info
Size:
959 MB (1,005,597,487 bytes)
Source:
Bluray Rip (Best quality A/V)
Quality:
Video: NA/10 Audio: NA/10 (1 Votes)
Torrent details
Hash:
93DC471A56FE4108FBBD98220595270A015D518C
Upload Date:
2/10/2019 3:19:39 PM (1 week, 3 days ago)
Babes in Toyland (1934)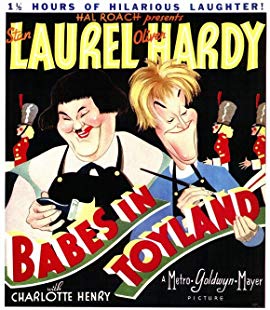 Director:
Gus Meins

,

Charley Rogers
Cast:
Charlotte Henry

,

Virginia Karns

,

Florence Roberts

,

Henry Brandon

,

Felix Knight

,

Stan Laurel

,

Oliver Hardy
Synopsis
Ollie Dee and Stanley Dum try to borrow money from their employer, the toymaker, to pay off the mortgage on Mother Peep's shoe and keep it and Little Bo Peep from the clutches of the evil Barnaby. When that fails, they trick Barnaby into marrying Stanley Dum instead of Bo Peep. Enraged, Barnaby unleashes the bogeymen from their caverns to destroy Toyland.